Once you're a certified SFK Facilitator, you'll be able to teach SFK to large groups of children in your schools and communities. Whether you are new to working with kids or have been in this work for a while, our training programs will help you bring out the best in yourself and in every child's life you touch.
PRICED ORIGINALLY AT $2499
Intro price: $1499
We also have payment plans available, a financing fee applies:
3 monthly payments of $549

As an SFK Facilitator, you will learn how to:


✔ 
Nurture 
social-emotional learning
 skills in your students, including but not limited to--resilience, empathy, perseverance, and balance.
✔ 
Help kids connect with their 
True Self 
and their inherent desire to succeed.
✔ 
Apply educational best practices such as 
Learning Levels
 and 
Questioning Techniques
 (Bloom's Taxonomy) to guide your students into critical thinking so they can make better choices.
✔ 
Employ the 
Umbrella of Care
 model to better connect and create a rapport with your students.
✔ 
Use SFK's 7 Guiding Principles for 
Spiritual Intelligence
 and teach your students how to turn challenges into opportunities.
✔ 
Utilize Gardner's 
Multiple Intelligences Model
 for identifying your student's strengths and apply the different 
learning styles
 to keep the children engaged.
✔ 
Address common behavior challenges through the use of 
Positive Discipline
.
✔ 
Get to know your students' needs through 
Active Listening
.
✔ 
Identify 
teachable moments
 in the classroom.
✔ 
Implement 
SFK tools and vocabulary
 to help the children solve problems.
✔ 
Make use of 
collaborative work
 and 
play
 for meaningful learning and to achieve the objective of each lesson.
✔ 
Ready-made 
lesson plans
, delivery tips, and much more.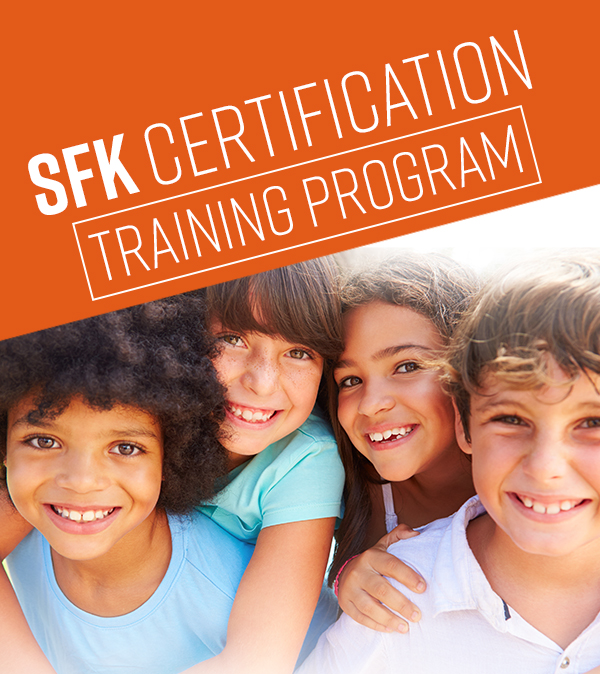 SFK Certification Training Program
In this 4-Module Certification Course, 
you will receive everything you need to know to bring these life-changing lessons to children in your community.


• Learn 
on your own time and at your own pace
• Get cutting-edge educational best practices and lesson-by-lesson tips and guidelines
• The autonomy to charge for your classes as you wish